This shop has been compensated by Collective Bias, Inc. and its advertiser, Mars Wrigley Confectionery US, LLC. All opinions are mine alone. #SendSweetness #CollectiveBias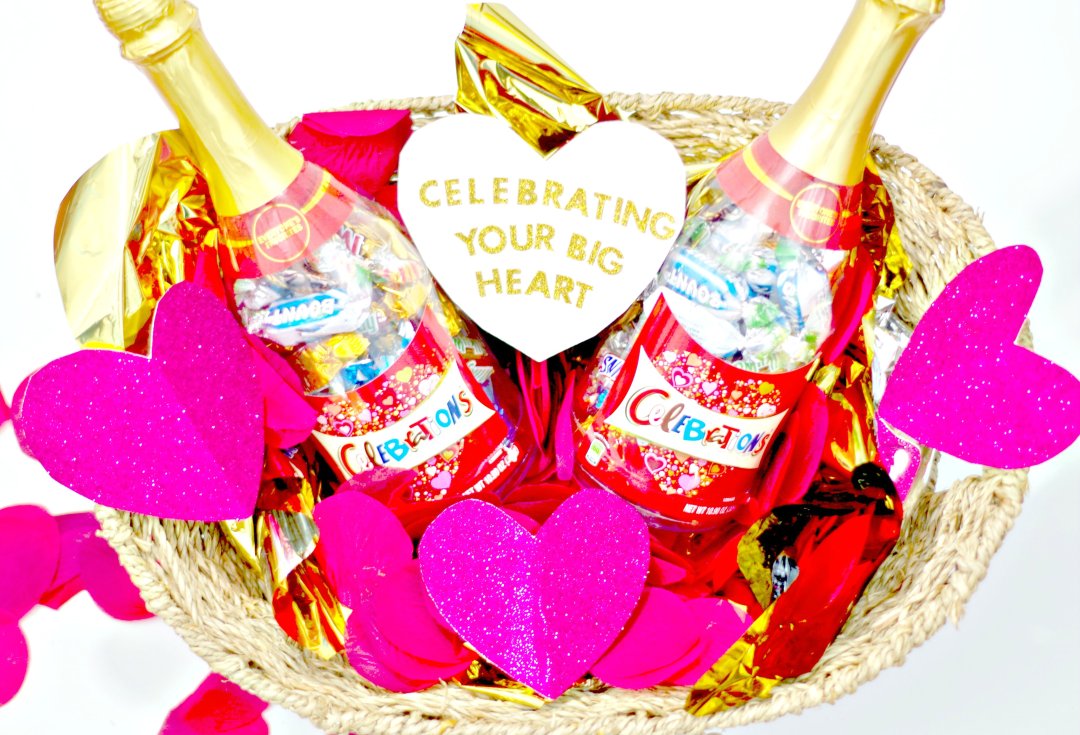 For me Valentine's Day is such an important holiday. It is a day to really show the people you love how much you love and appreciate them. Whether you are in a relationship, or single it is always a time to celebrate. Click on the image above to shop for the amazing Mars Valentine's Day CELEBRATIONS® Bottles right now!
For the longest time I would have a catch up Galentine's Day dinner with my best friend on Valentine's Day. We would make it a time to really celebrate our friendship and have some one on one time together. Doesn't everyone need a good chat with their best friend? Now I am on living on the other side of the country. However, I can still take the time to show my friend how much I care on Valentine's Day. Luckily, I can also video chat and get catch up time with my girlfriends while both enjoying some chocolate in our pajamas! Valentine's Day is the perfect time to send a friend a gift basket with Mars Valentine's Day CELEBRATIONS® Bottles. I sent this fun gift basket with heart messages to show how much I love her with my whole heart, gold tissue paper for some shine, and flower petals to decorate it.
Look for the coupon on the Mars Valentine's Day CELEBRATIONS® Bottles at Walmart to save 50 cents on any 1 10.9 ounce CELEBRATIONS® Bottle! The CELEBRATIONS® Bottles are the perfect way to give chocolate in a gift basket because they are so adorable on their own and just elevate the gift to the next level!
Since it is a time to celebrate the CELEBRATIONS® Bottle is the perfect gift for a friends gift basket. I made some easy big hearts to celebrate my friends big heart. I love my friend with my whole heart and this basket is a way to show her how much I love her. All of the hearts in the basket have fun messages on them. I made them with glitter card stock paper and glitter letters. You can write out messages with sparkly markers as well. You can make the hearts big and small.
Make the hearts is really easy thanks to the gift tags on the Mars Valentine's Day CELEBRATIONS® Bottles.
Trace the heart tag with a pencil on to some glitter card stock paper. If you are using the full glitter paper trace it on the back white side of the paper.
Cut out the heart.
Add cute glitter letter stickers with sayings or words that represent the person who is receiving the gift. You can also write with a glitter pen. I used words such as kind, fun, lovely, and I wrote "Celebrating Your Big Heart" on one of the hearts.
For the basket you need a basket, any kind you like I chose the wicker one because it contrasted nicely with the shiny items letting them stand out and it can be used for everyday items. The hearts, Mars Valentine's Day CELEBRATIONS® Bottles, faux flower petals, and tissue paper make the gift complete.
Put 1 sheet of tissue paper in the basket spread out.
Add 2 more sheets of tissue paper.
Add flower petals.
Add one or two Mars Valentine's Day CELEBRATIONS® Bottles.
Spread the love and hearts all around the basket.
You can add other little surprises like balloons to blow up with messages inside and confetti poppers. Since it is all about a celebration add anything that represents celebrating to you and your loved ones.
I love that you can flip the bottle upside down once you open it and turn it into a glass. This makes it perfect for serving at parties. This basket just screams love and celebration to me especially thanks to the CELEBRATIONS® Bottles!
Hi I'm Val! I love making simple crafts with my kids using free printable templates. Come craft with us!